Share the music you're playing on your blog!
Recent Tunes stores a list of recently played iTunes songs in your menu bar for quick access. Choosing a recently played tune from the list immediately plays the song in iTunes. With the combination of Recent Tunes and the iTunes dock menu, the ability to choose a selection of recently played songs is at your fingertips and out of your way.
Recent Tunes is a fun little toy!
Sharing
my currently
playing songs
with my readers
gives them a little quantum tunneling snapshot of my day.

Recent Tunes also includes upload facilities so that you can upload this list of songs to a web site or blog. It supports FTP, SSH, and HTTP GET and POST. By editing various templates, you can choose which information to upload and precisely control how it will be formatted.
Recent Tunes includes full online documentation, accessed by simply opening up the application's Help. A built in software update feature makes it convenient to keep up with the latest release. The built in registration wizard makes purchasing a snap by automatically installing purchased license keys.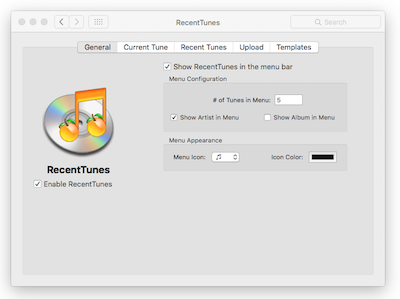 All Recent Tunes 2.x upgrades are free to registered users. Get your registration code by buying Recent Tunes today. To get up and runnning the quickest, try using the registration wizard built right into Recent Tunes!